Consolidated Public Water Supply District #1
Of Vernon County, Missouri
3414 E. Austin Blvd
Nevada, MO 64772
Tele (417) 667-8512
Fax (417) 667-2573
The rural water district was established in 1966 as Vernon County #4 to provide ample, safe and convenient water for people living in rural areas. The orginal district consisted of approximately 20 miles of pipe, and water was purchased from the City of Nevada for distribution to the patrons. In 1978 the first well was drilled to provide for better water and growth. In 1980 Vernon County #4 and Vernon County #3 (Schell City/Harwood) consolidated and became CPWSD#1.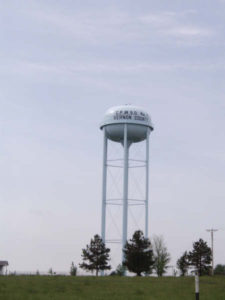 In 1982 the second well was drilled to provide an adequate supply of water to the newly consolidated district.
In 1994 a third well was drilled in the southeast part of the county to help serve new customers in that area and help backup the existing system.
In 2005 CPWSD #1 consolidated with Public Water Supply District #5 (Ketterman area), gaining approximately 100 new customers.
April of 2009 was the official date of the consolidation between Public Water Supply District #6 and CPWSD #1, with CPWSD #1 gaining approximately 250 active customers. The transition between the two districts has gone very well.
In mid-2013 we started reselling water to PWSD#1 of Moundville.  Thanks to the mild summers, the additional load has not been a problem.
Our fourth well, north of Dederick, was drilled in 2012 and a 300,000 gallon storage tank was erected in 2014.  Both were put into operation in 2014, allowing us to resell water to the City of Schell City and serve our northeast part of the county with more ease.
In 2016, a secondary feed to the Richards area was completed at Horton, allowing Well #4 to also provide additional water to the northwest area of the county.
CPWSD #1 continues to operate very productively, serving over 3,200 households and farms throughout the majority of Vernon County. We continue to strive to provide the very best service to our customers, while maintaining over 1,000 miles of transmission lines.
Click the following link to view the Consumer Confidence Report
Click the following link to view the Public Notice
Click the following link to view the Non-Discrimination Statement